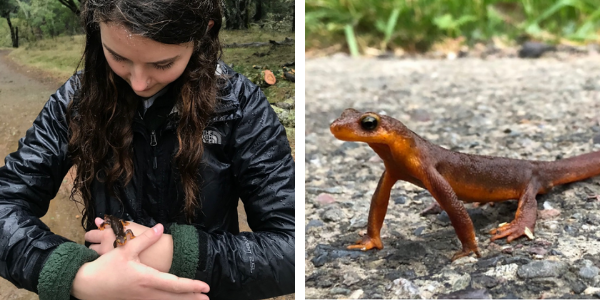 The Chileno Valley Newt Brigade is seeking volunteers for the 2022 newt migration season.
From November/December through March, newts emerge from the West Marin hills and attempt to cross Chileno Valley Road to spawn in Laguna Lake.  These small, slow moving creatures are vulnerable. Thousands get run over by cars and never make it. Last year they got help. Chileno Valley Newt Brigade (CVNB) volunteers came to assist their crossing and collected data to better understand migration patterns and the health of the population.
The California newt (Taricha torosa) is a native species having inhabited the region for millions of years.  Their distinctive bright orange belly, protruding eyes and winsome gaze characterize these creatures. Amphibians worldwide are in decline. It's important to maintain a stable population and protect the area's biodiversity.
Volunteers are needed to work in 2-hour shifts scouring a stretch of the road at night for the migrating amphibians. Teams of 2 or more pick up the newts, collect data and move them across the road to safety. This is a great opportunity to see this rare migration of newts and possibly other reptiles, amphibians and even otters making their way across this critical habitat.
Read the Argus Courier's feature article about CVNB here:
https://www.petaluma360.com/article/news/petaluma-area-volunteer-group-works-to-preserve-native-newt-population/
PLEASE NOTE: This event is ongoing through Spring and volunteers are needed EVERY night of the week.  Volunteers may pick a night that works for them and/or be on call to go out on big nights when there are large numbers of newts making the crossing.