Parade starts at noon
Festival of fun and activities from 10 a.m. to 5 p.m.
Petaluma's Butter & Egg Days Parade celebrates all things Petaluma, the people, history and the stories we love to tell. The 2022 theme "Community – The Heart of Petaluma!" recognizes the importance of our outstanding, engaged nonprofits, businesses, and volunteers with huge giving hearts that fuel our community spirit.  It's what makes Petaluma such a special place to live.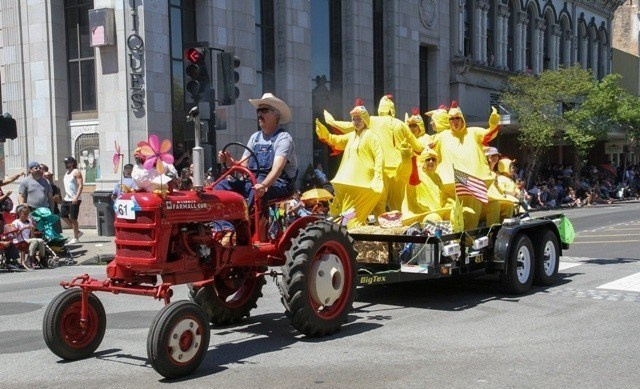 The strength of Petaluma's giving culture is well documented we are excited
 and honored to celebrate the generosity and compassion of those that make up the very fabric of our community. This 39th annual parade will ask entrants to incorporate the theme "Community – The Heart of Petaluma!" into their float design. The theme gives nonprofits, businesses, organizations, and individuals lots of options for showing off their creativity in their design.
All parade entries will be judged on how well their entry portrays the Parade theme of "Community – The Heart of Petaluma!".  Some suggestions for interpreting and representing the theme include:
portraying nonprofit organizations, sharing their legacy of community engagement and volunteerism
and service clubs showing how they make a difference. Businesses and individuals can show their community spirit and support of the community with a. The Butter & Egg Day festivities kick off on April 16th with the Opening Ceremonies at the Petaluma Historical Library and Museum (20 Fourth St.), from noon to 1 p.m. Mayor Barrett will read a proclamation honoring the Grand Marshal and Good Egg.display of hearts or visuals that show the heart of our community.
One week later on Saturday, April 23rd the parade steps off at noon and will march through the historic downtown, surrounded by a festival of fun and activities from 10 a.m. to 5 p.m.
Clover Sonoma will return to lead the Clover Kids' Parade, which precedes the main parade at 11:30 am with a procession of preschoolers and primary grade youngsters and their families.